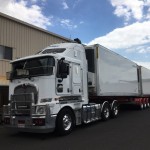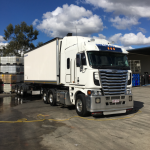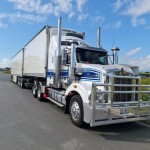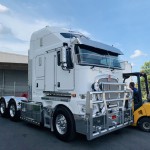 Coolfreight continues following the same principles as National Freight Express which was established by Larry Smith over 20 years ago and later joined by his son Marcus Smith. We are proudly a family owned business based in Queensland, with a core focus on transporting food and general products between Brisbane and the Central Queensland Region.
Our close working relationships with the many fantastic customers in this region and many years of hard work to provide a reliable service, is the reason we have been able to grow from the humble days of an old second-hand Mack Magnum prime mover and one set of B Double trailers. Which many of the locals still remember well.
Even during the GFC as other transport business were winding back and even closing the doors, we continued to expand and to invest in the region, with the opening of a refrigerated depot, adding a custom designed refrigerated Scania rigid in Emerald and employing three more staff in Emerald itself. All of this to improve further on the times we can deliver and increase the area we can cover, without compromising our current customers or diverting from our strict standards of product handling.
We truly pride ourselves in the ability to handle extremely perishable and temperature sensitive products and have never stopped looking for ways to improve on this.
We have been fortunate with the growth obtained over the years, but it has never been our focus and at no time have we ever become complacent in our job to provide the service all our customers deserve. We would like to thank the customers who have supported us over the many years and look forward too many more years carrying, to what is without doubt, one of the best areas of Australia.